Ziad Deeb, Gaza, Palestine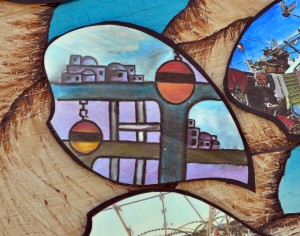 Gaza artist, survivor finds power in paint
Eman Mohammed, The Electronic Intifada, Aug 3, 2009
Palestinian artist Ziad Deeb next to an image that he made of his family members killed during Israel's attacks on Gaza last winter. (Eman Mohammed)
From the entrance of the house, one can observe the whole tragedy. On 6 January 2009, an Israeli artillery shell landed in the front yard of the Deeb family home in the Jabaliya refugee camp in the northern Gaza Strip. A large, wide hole in the ground and two missing walls are all that remain. Sitting in his wheelchair in the corner, Ziad, 22, is the last survivor of the Deeb family. He lost both legs during the attack, and 10 relatives were killed including his father, grandmother, brothers, nieces and nephews.
Ziad choose a different and unlikely way to mourn. He was a graduate of Gaza's College of Fine Arts when Israel's winter invasion began. When it was over, he started drawing — on wood, on the walls of the city streets, in front of destroyed government buildings, and public squares.
Ziad explained that his art is "the best way I can express myself." He added that, "It took me only seconds to look around and see my family members drowning in their own blood. I didn't hear the explosion, it was only a loud whistling sound, and dark smoke blocked my vision. But I could smell the strong odor of blood and when I tried to move myself I saw my legs ripped apart. Then the smoke became less and I saw everyone around me was dead and I thought I was too."
Ziad says that memories of the massacre inspire him "to keep painting more and more, I believe this is the only thing that can't be taken away from me and my disability can't be an obstacle." He adds that "as weird as it might sound, this ugly memory urges me to go further with my arts. If I can't be heard, my paintings can be seen. I draw for peace, now that's how much I believe in the power of colors, paintbrushes and art itself."
Mohammed Deeb, 33, Ziad's uncle was only few meters away when the attack occurred. Ziad now lives with his uncle who helps him to move around and tries to help him live something like a normal life. Mohammed expressed his admiration of his nephew's courage stating that, "He survived a catastrophe. I have no idea how he got this strength, but I do believe God gave him patience and creativity to overcome such a difficult ordeal. His art is unique in Gaza." He added with teary eyes that, "He is special, there is no doubt about that."
In spite of the tragedy, Ziad still enjoys spending time with his friends and playing the oud and other musical instruments. As his uncle explains, "they took his family's life but they couldn't take the life out of him."
Ziad showed his excitement for new art projects and exhibitions he is planning to participate in by starting new techniques of wood-based carvings copied from paper paintings in color and black and white. He explained that "I have dreams to pursue, if not for myself, then for the memory of my family. They are in a better place, I just know this for a fact. Losing them caused me wounds that can never heal but I won't allow the sadness to defeat me. In the end that's what it takes to make great art, to never be defeated."
Eman Mohammed is a Jordanian-Palestinian freelance photojournalist and reporter based in the Gaza Strip since 2005.