The Resurrection of Wesley Everest, Mural Centralia WA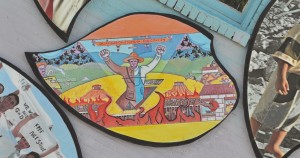 Agitprop News: Special Centralia IWW Mural Issus (text below)
http://www.kclabor.org/artcreatenewlabor.htm
Labor Advocate Online
Art Can Help Create a New Labor Movement
The following article is based on a speech by Mike Alewitz, Artistic Director of the Labor Art and Mural Project (LAMP.) It was delivered to the Collective Bargaining Convention (CBC) of the American Association of University Professors (AAUP.) The convention took place in Washington DC, on December 6. 2002.
___________________________________________________
This meeting takes place at a critical juncture in history. The US government stands poised to launch a horrible new war against the people of Iraq. Actually "war" is something of a misnomer – that term implies the capability of both sides to inflict damage. This is really going to be a massive bombing campaign and invasion of a virtually defenseless country.
The war is occurring in conjunction with serious new assaults on working people here at home. It's going to create some big changes in this country. It's going to change the labor movement, and force us to confront who we are and where we come from.
We are going to have to relearn some lost traditions. One of those traditions is using art and culture as a method of struggle. Art can help create a new labor movement. As we discuss this tonight, I am going to use slides of murals and banners from recent projects to illustrate these ideas.
The tradition of labor art and culture in the US.
There is a rich tradition of labor art and culture in the US.
When the Paterson silk workers struck in 1913, John Reed, the famous journalist, organized Greenwich Village artists to create the Paterson Silk Strike Pageant. Workers marched from Paterson, New Jersey, to Madison Square Garden. They strode onto the stage, reenacted the strike to a packed crowd and led them in singing strike songs. The pageant told the story of the strikers to the world.
The Industrial Workers of the World (IWW, known as the Wobblies,) had a cultural life of humor, poetry, song, cartoons and theater that made a lasting contribution to American culture.
When autoworkers staged sit-down strikes in Buffalo in 1937 they formed an orchestra to serenade assembled supporters from the rooftops of the occupied plant. When they won the strike they transformed the orchestra into a brass band and marched through the streets of the city in a victory parade.
The P-9 Strike
More recently, art was utilized when workers of Local P-9, United Food and Commercial Workers Union (UFCW) struck the Hormel Meat Company in 1985.
The workers performed brutal, dangerous and repetitive work. They took the bold step of leading an important struggle against concession contracts that galvanized union support from around the country.
I traveled to Austin, Minnesota to attend a solidarity rally, and worked with them to create a glorious mural on the side of their union building – an image that symbolized the strike. The mural was dedicated to Nelson Mandela, who was then imprisoned and being subjected to a vilification campaign by the US government.
Unfortunately, this heroic local was attacked by it's own international union officials, placed into receivership, and the mural was sandblasted off the wall.
Recent Labor Strikes
In 1989, when the United Mine Workers (UMWA) struck the Pittston Coal Company, artists traveled to Camp Solidarity in Virginia to join the pickets and create music, murals and banners for the strikers. This 100′ long mural of UMWA history highlights a contribution of John L. Lewis. When threatened with federal troops for striking, he pledged that "Bayonets in coal mines will not mine coal." In that slogan he summed up a too-often forgotten fact – that workers hold the ultimate power in their hands – the power to withhold their labor.
Throughout the 1980s and 1990s workers waged a series of defensive struggles: the Eastern Airline Strike, the Daily News Strike, Staley and many others as illustrated by these banners. And while these actions occurred, labor activity of another type was taking place. Immigrant workers were self-organizing themselves and winning important labor struggles.
Immigrant Workers
In 1995, mostly Mexican mushroom workers in eastern Pennsylvania struck the Kaolin Mushroom Company and organized themselves into the Kaolin Independent Workers Union. Artists organized by LAMP traveled to Kennett Square PA, where we created banners and signs to march in the Mushroom Day Parade. Workers carried puppets and used musical instruments to create an exciting public presence, create confidence for undocumented workers, and win the sympathy of the surrounding communities.
Similar organizing efforts took place among other workers. In Southern California, Mexican workers shut down drywall production on construction. Up to 7000 workers participated. They were self-organized.
To rebuild our movement, we must learn from, and address the concerns of millions of immigrant workers. We have to stop thinking of ourselves as Americans and start thinking of ourselves as workers. There are American workers and American employers. There are Iraqi workers and Iraqi employers. American workers have more in common with Iraqi workers than we do with American employers. For example, we have no interest in slaughtering each other.
For their part, U.S. employers have no problem palling around with and promoting Iraqi employers. In fact, that's how Saddam Hussain and Osama Bin Laden got to where they are today.
The quote on the banner is by Malcolm x. To paraphrase he said "I'm not a Democrat, I'm not a Republican, I don't even consider myself an American. I am one of the victims of Americanism…"
Unions Don't Organize Workers
The struggles of these immigrant workers point to another oft-forgotten fact: UNIONS DON'T ORGANIZE WORKERS – WORKERS ORGANIZE UNIONS.
Workers are ready and willing to engage in struggle. They are ready to join unions. Whenever given an opportunity they have responded enthusiastically. They are not apathetic. Workers abstain from elections because they are unwilling to swallow what their "leaders" are feeding them. Look how people responded to Ralph Nader – and even he's a rich lawyer. He repeatedly had rallies of thousands of students and workers desperate for something different, What if those workers had been given a choice of a clear voice of labor – a labor party or other independent formation?
Workers would respond to organizing efforts as well. But despite the millions of dollars and hundreds of young organizers provided by the AFL-CIO, there has been no significant growth in that organization. Why? It's not an organizational or financial problem; it's a political problem.
This portable mural, called "Bureaucracy," illustrates the point: Most unions function more as dues collection agencies than as social movements. There's a difference between workers empowerment through organization and simply signing up members.
Workers organize unions when they are inspired to do so. Think of the great periods of union growth. The Knights of Labor didn't have staff or money. The IWW, which claimed the allegiance of hundreds of thousands of workers, had two staff people. When millions of workers engaged in sit-downs and other forms of militant struggle, when they organized industrial unions in the CIO, they did it themselves.
After the recent elections, [AFL-CIO President] Sweeney explained the failure of their electoral strategy by saying "Bush was too much for us." How embarrassing! Can you imagine George Bush being too much for anyone?
The Role of Educators
The mural you see was painted at the Highlander Center in Tennessee. Highlander, a popular education center played a key role in the organization of the CIO, and later the civil rights movement in the south. The banner reads "Without Action there is No Education."
As educators we can play a special role in helping to relearn our movements history. But it needs to be an organic process. This mural is "The Resurrection of Wesley Everest." I painted it in Centralia, Washington, where a local labor coalition decided they needed a mural project as a way to reach out to immigrant workers. Wesley Everest was an IWW labor organizer lynched in Centralia. He was a great martyr of our movement, yet most workers would have no idea who he was.
When I painted a mural at the Frente Autentico Trabajdore (FAT) in Mexico City, union leaders asked me to portray Lucy and Albert Parsons. Albert Parsons was one of the Haymarket martyrs – anarchists framed up and executed for their role in the eight-hour day movement. Lucy, along with Albert, was a leader of the labor movement in Chicago. She was also an early feminist an outstanding revolutionary leader throughout her life. Mayday, the international working class holiday, is in commemoration of the Haymarket events.
The Mexico mural was part of a cross-border project. I painted a similar mural in Chicago shortly thereafter – it was a celebration of the Teamster strike victory over UPS. At a large rally of the strikers, I asked the crowd if anyone knew who the figures were. Nobody knew. We have been robbed of our history. As educators we can help to bring it back. And we can bring it to life through action.
Historic Program
There is a history to our movement – we don't have start all over again. That's Marx and Engels on that banner. We don't have to be afraid of them. We don't have to be afraid of the ideas of socialism or anarchism. It's part of our history.
This is the backdrop from the founding convention of the Labor Party. We haven't succeeded yet, but it is critical to promote this idea. Until the last 50 years, the labor movement had a position of independent political action. The idea that you should support the employers candidates, the Democratic or Republican candidates, is a new idea. That concept has always pretty much been rejected by the world working-class movement. Voting for your boss doesn't work. It hasn't, and it won't.
A World in Crisis
Today we face a renewed period of political and economic crisis. There are 800 million hungry people in the world. There are 40 million people infected with HIV. According to a recent UN report, we could solve the basic problems of food, clean water and health care for those millions. Know what it would take? 4% of the combined wealth of the richest 225 people in the world.
Would the wealthy even notice if it was gone?
Instead, congress has voted 150 billion to wage war – just for this year. It was a virtually unanimous bipartisan decision – with no questions asked. Next year the budget will increase from 329 to 400 billion. There will be an additional 38 billion for so-called Homeland Security.
These vast resources will come out of the pockets of working people – especially the poor.
Artists and Workers Form One World Without Borders
The gluttony of the employers has no limit. But workers have become a larger, more compressed and more international class. We have the power to stop the warmakers.
"Artists and Workers Form One World Without Borders" was painted as an act of solidarity in 1998 in Baghdad. It illustrates the basic foundation of the labor movement since the industrial revolution: the primary weapon of our defense is solidarity.
Unfortunately, our national union leaders have been quiet at best and jingoistic at worst in regards to Bush's war plans. They refuse to recognize that the war is against both Iraqi and American workers.
The labor movement must take the lead in this struggle, and we must fight to get the AFL-CIO to take on that task. If the AFL-CIO does not transform itself, it will be replaced by other organizations that workers will create.
Artists and intellectuals can and must play a special role in helping to inspire and rebuild a militant new labor movement. Art can be a powerful weapon in the hands of the oppressed.
New Book by Paul Buhle and Mike Alewitz
Foreword by Martin Sheen
Agitprop News: Special Centralia IWW Mural Issue

Via NY Transfer News Collective * All the News that Doesn't Fit

source:[email protected]  Thu Oct 30 12:15:01 1997

LaBOR aRT & MuRAL PRoJECT
AGITPROP NEWS
Special Centralia Mural Issue
10.30.97

In this issue:
1.  Mural Depicts Labor's View
2.  Muralist Was Activist Before Artist
3.  Tender Feelings
4.  American Legion Anti-Mural Resolution
5.  Challange to Debate

1.  MURAL DEPICTS LABOR'S VIEW OF 1919 STRIFE

The Chronicle, Page 1

RECALLING A SAD DAY
By Sharon Michael

The scaffolding is up and work is in progress on the Centralia Union
Mural Project commemorating the Armistice Day 1919 events known to some
as the Centralia Massacre and to others as the Centralia incident.

Union members, business people, community residents and educators are
among those who see the events of Nov. 11, 1919 as a part of the city's
history that should be shared. Those events left four American
Legionnaires and a union man dead,

A year ago they formed the Centralia Union Mural Project to raise money
for the mural that is going up on the upper level of north side of the
Centralia Square Antique Mall overlooking Washington Park and the
Sentinel -- a statue honoring the four Legionnaires who died the same day
as Industrial Workers of the World  organizer Wesley Everest.

The Sentinel was unveiled on Armistice Day 1924. The mural honoring
Everest is scheduled to be dedicated Nov. 9.

Business owner and committee member Kathleen Campbell thinks the mural
will be a good thing for Centralia. "It should be, if anything, a way to
give us a perspective on history -- a healing process, I hope. It's part
of our history.

"It's a historical event. It happened -- not only here, but in Everett
and several other places," she added. "We've got to get over our
paranoia."

Campbell, also president of Destination Centralia, said the union mural
is one more of the series of historical murals that attract tourists to
downtown Centralia. The 16 completed murals depict early transportation,
industry and pioneers that are part of history of the early settlement
and development of the region.

Among those who oppose the union mural are Legionnaires from Grant
Hodge Post 17 and others across the country. A resolution condemning the
"installation of the IWW mural in Centralia," was passed at the American
Legion state convention in the spring, and at the Legion's national
convention in September.

The resolution says the IWW "used violence as a tool to further their
cause and agenda" and "did plan to ambush members of Grant Hodge Post
17, The American Legion.

"A group of labor officials, college professors, and current members of
the local IWW are planning to install a wall mural in downtown
Centralia, Washington, to tell labors' side of the story and honor the
1919 IWW assassins," states the resolution.

"We figure this is something that has stayed in the background since
1919 and it should stay in the background," said Don Bradshaw, commander
of Winlock Post 101. "It's not going to heal this community."

"You're going to hear one hell of an outcry from vets, even union
members," predicted Bradshaw. "It will divide the community at the very
least, or you'll get someone hurt again. Vets will go out of their way
to deface it. It will stir up hate and discontent."

"They're depicting the person who instigated the shooting," said Dean
Hendrickson, also of Winlock Post 101. "He was the shooter. I don't
think they should be portraying him as a martyr. I don't think it's
right."

But Hendrickson says the American Legion doesn't think it can stop the
union mural project. "There's nothing we can do about it, but we object
to it," he said.

Bill Henry, co-chair of the union mural committee and member of
Operating Engineers Local 612, said he anticipated hate calls about the
project. "I was expecting the worst."

But that hasn't happened. "People were calling telling me that it was
about damn time the story was told," he said. "There's only been one
side of the story told. There's a story of labor's side that's never
been told."

"One of the vets called me up and was kind of irate about the mural
project. He didn't even know they had a monument in the park," Henry
added.

He said the union mural should spark controversy. "We felt if we get a
mural up and people looked at it and walked away, we didn't do our job."

Henry said he believes looking history in the eye is a good way to way
to prevent the same mistake twice from being made again, but "somebody
had done a good job of suppressing this.

"Prominent people were involved. Lynching was murder with no statute of
limitations," he explained.

Henry's great-grandfather was one of the jurors in the Wobblies' trial
held in Montesano. According to Henry, he thought the defendants were
innocent, but he feared for their safety. "He felt if they were not in
protective custody, they would be killed anyway," Henry recalled.

American Legion members were invited to participate in the mural
project, but "nobody showed up," Henry said.

 "Many, many lives were damaged by this. Wesley's family -- they've
spent their whole life waiting for someone to tell the rest of the
story," said Helen Lee, mural committee co-chair. Lee is also director
of The Evergreen State College Labor Center and president of the
Thurston-Lewis County Labor Council.

Lee's uncle, Russell Carothers, Sr., was a life-long member of the
American Legion and a member of the citizens committee that investigated
the incident at the time. "My uncle said when all was said and done, it
was everybody's fault.

"Russ said there was an atmosphere of fear in the air," Lee recalled.
"Everyone just got back from the war. He said lots and lots of people
carried guns. The Legionnaires came down the street looking for a
fight."

Lee said in those years just after World War I there was a bias against
newcomers. She said Centralia was a small, insulated community and the
Wobblies were feared as much because they were foreigners or outsiders
as for their unionism.

Actions against Wobblies took place in Kelso, Longview and other small
towns in Southwest Washington during that time, she added.

But times have changed. "Business is promoting the revitalization of
Centralia and (business people) are very much a part of promoting this
mural project," Lee said.

"(Committee members) all had different views of the world, but we came
together to put together this mural," she said. "My most optimistic self
hopes the mural creates an incredible amount of discussion and healing
in this town."

"We have ambitious hope for this mural," Lee admitted. "We're not
interested in creating another martyr, but it does tell the other side
of the story. Beyond Wesley Everest, we wanted the mural to say
something about the future."

2.  MURALIST WAS ACTIVIST BEFOR HIS ART CAREER

The Chronicle, Page 1

By Sharon Michael

Mike Alewitz was a political activist long before he became an artist.
His art is an extension of his politics.

The internationally known muralist is in Centralia to paint a mural
honoring Wesley Everest, an Industrial Workers of the World organizer
killed by a mob following a 1919 Armistice Day clash between union
members and American Legionnaires.

The larger-than-life painting will go on the side of the Centralia
Square Antique Mall. It depicts Everest rising from his grave with
clenched fists raised above his head. Alewitz says the resurrection of
Wesley Everest represents the resurrection of labor.

Alewitz calls his work "agitprop art -- a school of art out of the
Russian revolution. It's using art in an organic way in social struggles
people are involved with," he explained. "It's an instrument of
education, enlightenment and inspiration.

"It's very much a teaching thing. It's not what most art is in our
society," he added. "In our society we believe art comes from individual
genius. I don't believe that."

Alewitz has bachelor's and master's degrees in fine art and has taught
art as an adjunct professor for nine years in East Coast colleges and
universities. But his political education and experience as a working
man preceded his art education and infuses his work.

In 1967, when he was still in high school, he was active in the
anti-Vietnam War movement. He was chairman of the Student Mobilization
Committee at Kent State University when Ohio national guardsmen shot and
killed four student demonstrators on campus. Later, he was a leader of a
national student strike and a member of the Anti-War Coalition. In the
early 1970s he organized GIs in Texas.

In the late 1970s and early 1980s he worked on the railroad and as a
machinist. After that he worked as a sign painter until 1985 when he
"started doing art."

Today, Alewitz is artistic director of the Labor Art & Mural Project at
Rutgers University's Labor Education Center.

His work can be found on public and union buildings in Nicaragua,
Mexico, the Ukraine and Belgium, as well as Washington, D.C., New York,
Chicago, Denver, Seattle, Yakima, Los Angeles and Oxnard, Calif.

 Over the years, Alewitz has been involved in abortion rights, women's
rights and environmental protection issues, as well as labor organizing
efforts.

The Centralia Union Mural Project appealed to him because it "flowed
out of what I was doing."

Alewitz' most recent project was a Teamster-sponsored mural painted in
Chicago in celebration of the union's successful strike against United
Parcel Service.

Alewitz sees the Teamster resolve as the beginning of the
"revitalization of the labor movement."

"There is something going on," he added. Alewitz said most strikes in
the last 20 years have been lost by the unions, but more importantly,
the UPS strike was the first time union organizations had gone to bat
for workers on the "lowest rung. This was fought and won by
part-timers," he explained.

Alewitz believes the Wobbly mural will get national attention and be a
boost to labor. "Let's announce to the world we're back," he said.

But he understands some people won't get the political message in his
art and others will disagree with it. If the mural causes just a few
people to question their assumptions about what happened in 1919 and
what is happening to working people today, he said that will be a step
in the right direction.

"It's an aspiration and that's how it starts," Alewitz observed.

3.  FEELINGS STILL TENDER, THOUGH EVENT WAS LONG AGO

The Chronicle, Page 1

By Sharon Michael

Events that happened nearly 80 years ago in Centralia are still the
source of dissension in some quarters today.

World War I veterans and Industrial Workers of the World union members
clashed during the 1919 Armistice Day parade that drew nearly 1,000
people to downtown Centralia. Four veterans and an IWW organizer, who
was also a veteran, were killed that day.

Legionnaires Warren O. Grimm, Ben Casagranda, Earnest Dale Hubbard and
Arthur McElfresh were killed by gunfire when shooting erupted during an
Armistice Day parade through downtown Centralia.

Later that evening, IWW member Wesley Everest died at the hands of a
mob. He was hanged from the Mellen Street Bridge and shot.

No one was ever arrested for Everest's murder, but eight IWW members --
known as Wobblies -- were convicted of second-degree murder for the
killing of the four Legionnaires.

Although many historians would come to support the Wobblies' claim that
Legionnaires planned to attack the union hall during their parade,
Legionnaires and other local people alleged union members fired into the
parade without provocation, thus instigating the assault on IWW
headquarters.

In the days, months and years following the killings and the trial of
the IWW members, the community fell into two camps: those who believed
the attack was planned by the Legionnaires and those who believed it was
provoked by the IWW.

Later, a third faction developed -- those who believed the two groups
shared the blame for the incident.

But a view apparently shared by most local residents was that the
incident and its aftermath weren't events the community wanted known,
and for decades there was a conspiracy of silence.

Now, just a few days short of the day's anniversary, those who know the
1919 incident are still divided into three camps, and some still believe
talk of events of that day will open old wounds and make the city look
bad to outsiders.

But there are others who want the story told, and those who believe the
community can learn from its history and benefit from sharing the story.

3.  Legion Resolution

SEVENTY-NINTH NATIONAL CONVENTION OF THE AMERICAN LEGION
ORLANDO, FLORIDA
September 2-4 1997

Resolution No. 140: Oppose The Installation of the IWW Mural
Submitted by: Americanism As Amended

WHEREAS, The International Workers of the World (IWW), also known as
Wobblies, used violence as a tool to further their cause and agenda; and

WHEREAS, The Centralia Chapter of the IWW did plan to ambush members of
Grant Hodge Post #17, the American Legion; and

WHEREAS, On November 11, 1919, during the Armistice Day parade, in
Centralia, Washington; members of the IWW chapter did open fire on and kill
(4) Legionnaires, including the Post Commander, and wound (3) other
Legionnaires; and

WHEREAS, a group of labor officials, college professors, and current
members of the IWW are planning to install a wall mural in downtown
Centralia, Washington to tell labors' side of the story and honor the 1919
IWW assassins, now, therefore, be it

RESOLVED, By The American Legion in National Convention assembled in
Orlando, Florida, September 2, 3, 4, 1997, That The American Legion
condemns and opposes the installation of the IWW mural in Centralia,
Washington.

4.   A  Challange to Debate

To the Editor:

I read with amazement the comments of Don Bradshaw of American Legion
Winlock Post 101 regarding the Centralia Union Mural Project.

In his remarks to the Chronicle, Bradshaw states that the murder of Wesley
Everst has "...stayed in the background since 1919 and should stay in the
background."  He goes on to addthat "It will divide the community at the
very least, or you'll get someone hurt again.  Vets will go out of their
way to deface it.  It will stir up hate and discontent."

Is Mr. Bradshaw aware that threatening to hurt someone or defacing the
mural is against the law?  Does he have knowlege of such a plan?  Is the
American Legion planning violence against the workers of this town who are
promoting the mural project, the way they planned violence against the IWW
in 1919?

Who are "the vets" that he is talking about?  Veterans like Wesley Everest,
who organized against the carnage of the world wars?  The tens of thousands
of Vietnam Vets, sick of being used as cannon fodder for corporate profits,
who marched and organized to be brought home from Southest Asia?

The Ressurrection of Wesley Everest is a gift to this town and the entire
world from the working people of Centralia.  We expect the authorities to
protect and defend it as the valuable contribution to culture that it is.
Any attempt to deface this work is against state and federal law.

Of course,  Mr. Bradshaw is free to disagree with the goals of labor or the
creation of this art.  With that in mind, I challenge him to a public
debate.  Let him come forward and defend his ideas. Surely a veteran like
Mr. Bradshaw will have no fear of public scrutiny.

Mike Alewitz
Muralist

ARTISTS AND WORKERS OF THE WORLD UNITE...
YOU HAVE NOTHING TO LOSE BUT BAD TASTE!

LaBOR aRT & MuRAL PRoJECT
Labor Education Center
Rutgers University
Ryders Lane & Clifton Avenue
New Brunswick, NJ  08903
Phone: 732-220-1472   -   Fax: 732-296-1325
Email: [email protected]   -   Website: http://www.igc.apc.org/laborart
Subscribe to AGITPROP NEWS at this address
Spanning the Globe to: ORGANIZE  -  AGITATE  -  EDUCATE  -  INSPIRE
Mike Alewitz, Artistic Director

=================================================================
  NY Transfer News Collective   *   A Service of Blythe Systems
           Since 1985 - Information for the Rest of Us
              339 Lafayette St., New York, NY 10012
  http://www.blythe.org                  e-mail: [email protected]
=================================================================

nytrad-10.31.97-20:47:41-24347
Centralia Mural To Mark Labor Fight
AP
CENTRALIA – For decades, the ugliness of events at the 1919 Armistice Day parade here muzzled residents into a tight-lipped silence.
Tensions between the town's American Legionnaires and members of the Industrial Workers of the World union erupted into violence that day.
When it was over, four Legionnaires had been killed by gunfire; one union member – Wesley Everest – had been hanged in a lynching; and eight other union members were imprisoned. A Tenino, Thurston County, farmer and posse member also died, accidentally shot by another vigilante.
The four Legionnaires are commemorated by a statue in George Washington Park downtown. The only memorial to Everest's lynching is his headstone in a small cemetery north of Centralia.
"The monument in the park does not really convey what most people consider to be an accurate view of what took place," said John Regan, co-owner of Centralia Square Antique Mall and the Centralia Factory Outlet Center near Interstate 5.
So this summer, Everest and other IWW members – known as the Wobblies – will be honored in a downtown mural.
The community's silence on the events of Nov. 11, 1919, was breached in 1983 when Peter Hendrickson, program administrator for the Centralia School District, began creating local history materials about them.
Before then, Hendrickson said, "it was an unspoken taboo that this was not an appropriate topic because it was so sensitive."
But that has changed. In 1994, the Lewis County Historical Museum had an exhibit marking the event's 75th anniversary.
And now there's the mural.
Bill Henry, business representative of Local 612 of the International Union of Operating Engineers and co-chairman of the mural project, said his great-grandfather, William Inmon, served on the 1920 jury in Montesano, Grays Harbor County, that sentenced eight Wobblies to lengthy prison sentences.
Two years later, Inmon and two other jurors submitted affidavits that said they believed the defendants were innocent, but that they had convicted them of lesser charges to save them from execution.
The mural "will finally tell the history that has been suppressed," Henry said.
"When you scrape back some of this history, you see people with real convictions and beliefs, and the kind of character to take a stand," Regan said. "We want to make a statement. From my point of view, it's communicating honestly about what took place."
The mural, 30 feet wide and 25 feet high, will be painted on the back wall of Centralia Square Antique Mall. The mural group intends to commission Mike Alewitz, a New Jersey-based labor muralist.
Brian Dow, a member of Local 2127 of the Carpenters Union, is enthusiastic about the mural.
"What happened back in 1919 is somewhat overdue for being put out there," Dow said. "It's Centralia history. It's not going to hurt anything, and it's good when people talk about things."
Copyright (c) 1997 Seattle Times Company, All Rights Reserved.