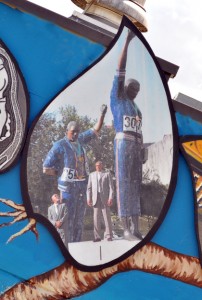 Rigo 23 has exhibited his work internationally for over 20 years, placing murals, paintings, sculptures, and tile work in public situations where viewers are encouraged to examine their relationship to their community, their role as unwitting advocates of public policy or their place on a planet occupied by many other living things. Rigo 23's works live both as artworks and as thoughtful public interventions.
He has created installations for the Lyon Biennale and the Shenzhen/Hong Kong Bi-city Biennale of Urbanism/Architecture. His sculpture of Tommie Smith and John Carlos was installed on the campus of San Jose State University in 2005.
http://www.gallerypauleanglim.com/Gallery_Paule_Anglim/Rigo_23.html
Tommie Smith/John Carlos sculpture to be unveiled at SJSU on Oct. 17, 2005
Tommie Smith, Rigo 23, John Carlos and Peter Norman
Salute in Bronze
(slide show of unveiling with sound)
(courtesy of San Jose Mercury News)The three-year effort at San José State University to honor 1968 Olympic gold and bronze medal winners and SJSU student activists Tommie Smith and John Carlos will culminate on Monday, Oct. 17, at 5:00 p.m., with the unveiling of a 20-foot sculpture, located in the Sculpture Garden (between Clark Hall and Tower Hall). Australian Peter Norman, the silver medalist who was with Smith and Carlos on the victory podium and supported their stand, will be at SJSU for the day-long celebration. The campaign to commemorate a legacy was conceived and led by the SJSU student government organization, Associated Students.
Designed by artist Rigo 23, the sculpture depicts the pivotal moment in history when Smith and Carlos took a stand for human rights on the victory podium at the Olympics, a silent protest that was seen around the world. The Smith/Carlos figures are clothed in hand-cut ceramic tiles, modeled in fiber glass and sustained by a steel structure. Their likenesses are cast in bronze. Besides the innovative use of materials, Rigo used state-of-the-art 3D scanning technology and computer-assisted virtual imaging to take actual full-body scans of the athletes.
An entire day of activities is planned to honor these men and to commemorate student activism. Beginning at 10:30 a.m. to noon, in the Student Union, Smith, Carlos, Norman and gold medalist Lee Evans will join a panel discussion to talk about their roles in the historic 1968 Olympics. From 1:00 to 2:30 p.m. at the same location, a second panel discussion on Student Activism in the 60s will feature the above athletes and special guests. At 5:00 p.m., the ceremony to unveil the sculpture will begin in the Sculpture Garden.
In addition to the above activities, the documentary "Fists of Freedom," which portrays this courageous moment in civil rights history, will be shown in the Mosaic Cross Cultural Center in the Student Union throughout the morning at 9:00 a.m., 10:00 a.m., 11:00 a.m., and noon.
Earlier this year, the California State University and San José State University presented honorary doctorates to Smith and Carlos at the university's 148th commencement ceremony.