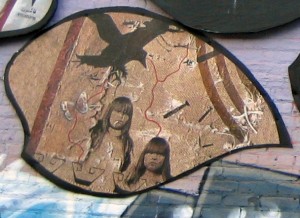 http://www.richardcastaneda.com/
Richard Castaneda's work exhibits the uneasy tension of cultural identity, living within a paradoxical paradigm of what it is to be "Native American" in a pan-American landscape. His personal experiences as a Pima Indian roaming to and from his reservation and observing everything else in between, informs his art and cultural perspective. As a Native artist he is interested in an alternative perspective that divulges misconceived stereotypes that continue to homogenize Native American identity. Through his art he pairs together his positive and negative cultural experiences using a multitude of cynical, humorous, political and even good-natured subjectivity to evoke relevant dialogue and expand conscious cultural awareness. The central focal point of Richard's explorative work is an intentional interplay between internal and external perspectives of Native American identity as a whole, and tries to address uncomfortable conflicts that divide cultural continuity. He is also at war with the sensationalism of the romanticized "noble savage", and its dominance over the realities of contemporary Native life.
Castaneda's various artistic palettes range from formal photography to mixed-media appropriation.  He almost always uses photographic processes in his work and does not confine himself to one medium. He likes to incorporate text and imagery from mainstream media and collage them into his work to add layers of metaphoric and subjective content.
Richard Bluecloud Castaneda earned his Associates of Fine Arts degree in Two Dimensional Arts from the Institute of American Indian Arts in Santa Fe, New Mexico. In 2007, he received his BFA degree in Advertising/Illustration Photography from the Academy of Art University, San Francisco. Richard will receive his MFA degree in Fine Art Photography from the San Francisco Art Institute in May of 2010.
Richard is currently being represented by the Togonon Gallery in San Francisco, California.