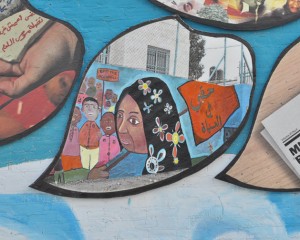 www.precitaeyes.org
Collaborative Mural in Jayous Village, West Bank, Palestine
As an inner city, community-based mural arts organization, Precita Eyes Mural Arts Association seeks to enrich and beautify urban environments and educate communities locally and internationally about the process and the history of public community mural art. We maintain a deep commitment to collaborating with the various communities we serve. Our dedication to collaboration guarantees that creative work produced is accessible, both physically and conceptually, to the people whose lives it impacts. We intend to bring art into the daily lives of people through a process which enables them to reflect their particular concerns, joys and triumphs.
Precita Eyes Mural Arts Center, established in 1977 and currently located in San Francisco's Mission District, is a multipurpose community based arts organization that has played an integral role in the city's cultural heritage and arts education. One of only three community mural centers in the United States, the organization sponsors and implements ongoing mural projects throughout the Bay Area and internationally. In addition, it has a direct impact on arts education in the San Francisco Mission District by offering four weekly art classes for children and youth (18 months through 19 years) and other classes for adults. These classes and community mural projects enable children and youth to develop their individuality and confidence through creative activities and to experience unifying, positive social interaction through collaboration.
Depending on which of the centers during almost any day of the week, one could find a lot going on. Volunteers helping out with various duties and projects, a group of professional muralists collaborating on a portable mural; an intense planning session for a new monumental mural project; a slide presentation to a group of educators or public school students and that's just our Mural Arts & Visitors Center on 24th Street.
More than 20,000 students and tourists have walked from Precita Eyes as the starting point for the mural tours encompassing more than 80 murals in an eight-block walk. Precita Eyes is alive with purpose and ideas, and it is continually evolving to meet the needs of the individuals, young and old, that pass through its doors.
Though we predominantly serve the Mission District with our murals and programming, we have also collaborated on projects serving Bernal Heights, South of Market, Tenderloin, Bay View, and Outer Mission neighborhoods, as well as international projects in Russia, Germany, Spain, and Brazil. Individuals we serve include residents, muralists, artists, tourists, students, and youth, especially low-income and under-privileged people.
This collaboration reflects the very heart of Precita Eyes' concerns and interest in art and how it interacts with/within the community around it. As a community-based mural organization, we believe that it is our mission to not only enhance the urban environment, but also to reach out to educate the community at large. We seek to do this by bringing art into the everyday lives of neighborhoods and communities in a way which is meaningful to them. We share a deep commitment to making artworks accessible, both physically and conceptually, to viewers from diverse backgrounds who may not be regularly exposed to the arts.