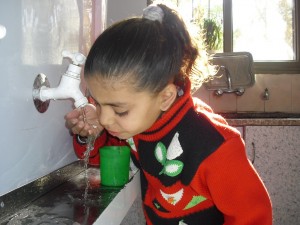 A Tale of Two Cites goes to Gaza!!
To make your tax deductible donation:
Break the Silence Mural Project (Via our Fiscal Sponsor PEACE DEVELOPMENT FUND)
The MAIA MURAL PROJECT will be a series of collaborative murals focusing on environmental justice, specifically water or 'maia' in Arabic.  We will work with youth and artists in Gaza to paint murals at sites of water purification units that the Middle East Children's Alliance (MECA) is installing at UNRWA schools and kindergartens. The quality of water in Gaza has been eroded, particularly in the Israeli assault of 2008-9, creating a severe health hazard to which children are most vulnerable.  In addition we will work on two large-scale public murals that will address the issues of the universal right to water and international solidarity.  To read more about this humanitarian crises please see: http://www.mecaforpeace.org/project/maia-project.
The MAIA Mural Project joins the ESTRIA Foundation's Water Writes Project and will be the 10th mural in a series of projects in 10 cities around the world in 10 focusing on the universal right to water.  The project is also sponsored by MECA, Break the Silence Mural Project, the Rachel Corrie Foundation for Peace and Justice and the Gaza Community Mental Health Programe.
The MAIA Mural Project is the Gaza part of "A Tale of Two Cities- The Olympia-Rafah Mural Project" located in Olympia WA.  These projects make connections between struggles and movements for social justice around the world.
You will be able to see our work as it unfolds on our blogs, Twitter, Facebook and Flickr.  We will also be uploading video and interviews with our Palestinian partners, giving you a real sense of what we are experiencing and whom we are working with.  This extensive documentation will become part of a growing global conversation about resources, water, solidarity, cross-movement building and non-violent resistance to oppression.