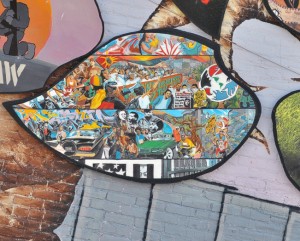 http://www.homeysf.org/
What is HOMEY's?
The mission of HOMEY remains to transform the lives of at-risk youth and community members in San Francisco, inspiring them to not only choose a path of education, self-sufficiency and non-violence, but to also strive towards stability in their physical, mental and emotional well-being. HOMEY fulfills its mission by providing participants with educational resources, leadership development, financial literacy, community organizing, critical thinking skills, and cultural affirmation.
HOMEY seeks to further the work of our social justice, youth-led organizing and continue the political-education and violence-prevention services we offer low income, Latino youth in San Franciscos Mission District and city-wide. The youth we serve are ages 13 to 24 and come from immigrant families, are immigrants themselves. Collectively, we defend our human rights and civil liberties by taking a stance on economic and environmental justice issues that affect us by using and leveraging tools such as the arts, media, community organizing and the reaffirmation of our cultural identity as Latinos and Indigenous people.
HOMEY was founded in 1999 by youth leaders active in the Mission District community-led Community Peace Initiative. Out of this effort, community youth began to take leadership for a number of activities, eventually organizing themselves into HOMEY. They found a fiscal home with the Berkeley-based ICRI, the International Child Resource Institute. Over the last ten years, youth (and adults) inspired by the vision of HOMEY volunteered their time and money to make HOMEY what it is today, with an operating budget of nearly half-a-million dollars and eight staff who have all had first-hand experience with the similar challenges our youth are facing. HOMEYs growth has allowed each new generation of young people to experience the power of affecting change and making the organization their own, but the mission of developing leadership and organizing youth remain the same.
Mural ignites controversy in Jewish community
September 20, 2007 by sfnews
By Kim Geiger
This summer, Latino youth set out to create a Mission District mural to oppose separatism and anti-immigration sentiments. Instead, the group of former gang members and other at-risk youth found themselves embroiled in a debate over a conflict nearly 6,000 miles away.Homies Organizing the Mission to Empower Youth, a grassroots organization aimed at empowering young Latino through community activities, was commissioned by the city of San Francisco to liven up a new parking lot on 24th and Capp streets. The mural theme, approved by the city Arts Commission, was "breaking down barriers," a commentary on ethnic divisions in the Mission and beyond.But by including an image of Palestinians breaking through the wall that separates Israel and the West Bank, the artists have sparked controversy within the Jewish community, with some groups calling for a halt to the project and others amassing support for the mural to remain unchanged.
"It's just really been an educational experience," said Nancy Hernandez, youth programs coordinator for HOMEY. "We want to stand in solidarity with communities that are fighting oppression, but at the same time, we don't want to oppress anyone."The Jewish Community Relations Council, a group representing over 80 synagogues and Jewish organizations throughout the Bay Area, opposes the mural, saying its imagery is threatening to the Jewish community."The image of violently breaking down a security barrier that has saved thousands of lives is exceedingly threatening to our community," council representatives Rabbi Douglas Kahn and Cheryl Feiner wrote in a letter to the Arts Commission. "This imagery victimizes Jewish members of the Mission neighborhood for whom the security barrier has prevented the loss of lives of family and friends in Israel."But the JCRC's stance has drawn criticism from other members of the Jewish community who support the mural as an expression of the Mission's Palestinian immigrant community's desire for self-determination.Former Mission resident Susan Greene, who created an online petition to pledge support for the mural, said she and other Jews want the mural to stay."Oppression and resistance are part of the shared culture and experience of immigrant and communities of color in the Mission," Greene said in a letter to the Arts Commission. "This builds rather than divides communities."Hernandez said because of Greene's petition, which has 258 signatures, and support from other Jewish organizations, HOMEY has received hundreds of letters of support from throughout the country and the world."If anything we feel like, you know, it's a success because we have got a lot of people to start discussing the issue," Hernandez said.Some of the images that the JCRC objects to, including a hole in the wall shaped like the map of Israel and a Palestinian with a kaffiyeh, or patterned scarf covering his face in a manner some associate with terrorism, will be altered, Hernandez said."We volunteered to change that section because we don't want to advocate for any acts of war at all," she said.JCRC supporters say other images could be used for breaking down barriers."Why not have a ladder going over the barrier, for instance, with Israelis and Palestinians reaching over?" asked JCRC spokesman Yitzhak Santis. "I don't see any Israelis in that mural."As a result of the controversy, HOMEY's payment for the mural has been held up, pending the Art Commission's approval. A hearing on the mural will be held Wednesday at 25 Van Ness Ave., where HOMEY will present its changes in the hopes of reaching a compromise and achieving final approval.
SF Mission District Mural Sparks A Controversy
Posted: 1:37 pm PDT September 20, 2007
SAN FRANCISCO — A mural celebrating the cultural diversity within San Francisco's Mission District has sparked a controversy over images of Palestinians coming out of a map of Israel carrying a banner that reads: "Our Mission Self-Determination For All."The 117-foot wide and 10-foot tall mural overlooking a parking lot on the corner of 24th and Capp streets was designed by San Francisco artist Eric Norberg and painted by more than 200 volunteers over the summer using grant money awarded by the city to Homies Organizing the Mission to Empower Youth (HOMEY).But the artwork has come under fire from the Jewish Community Relations Council."The imagery took a radical position on a complex geopolitical issue that was out of touch with the international community, San Francisco and the overwhelming majority of Jews," Abby Michelson Porth, associate director of the Jewish Community Relations Council, told the San Francisco Examiner.Local residents were not quite as sure."I think it looks a lot better," Shawn Tearle said of the parking lot. "I know a lot of people have differing opinions about it."Enrique Toscano, meanwhile, felt the mural's content should be up to the artist."I don't think it is an issue," he told KTVU. "I think if it depicts what he artist wants to say than I think it's right. I have no problem (with it)…If the artist has a specific goal they want portrayed, that's what they should put forth."HOMEY and Norberg have reached a compromise with the mural's critics and agreed to alter the images. The group will change the shape of the crack so it does not resemble a silhouette of Israel and add blue sky to reflect a brighter future.
Copyright 2008 by KTVU.com. All rights reserved. This material may not be published, broadcast, rewritten or redistributed.