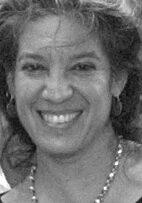 Susan Greene, conceived and directs the ORSMP. She is an artist, educator and clinical psychologist. Her practice straddles a range of cultural arenas, new media, and public art, while focusing on borders, migrations, decolonization and memory.
Greene is one of four Jewish American women artists who formed Break the Silence Mural Project in 1989. Break the Silence artists have returned to Occupied Palestine numerous times to facilitate community mural projects, conduct arts workshops, and create sculpture in refugee camps in Bethlehem, Ramallah, Nablus, Beit Hanoun and Rafah.
They have presented their work to high school, university, and community audiences across the United States including at the San Francisco Art Institute, Art Institute of Chicago, and the Alternative Museum in New York. The group has also produced an award winning video. Greene has led or participated in more than 30 public art projects worldwide.
Originally from NYC, she has been a resident of the Bay Area 25 years. Greene is visiting faculty at the  San Francisco Art Institute and has a private psychotherapy practice in San Francisco.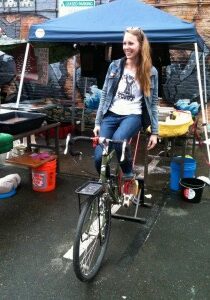 Outreach and Development Coordinator
Sarah Stockholm grew up a white-settler on occupied Lakota, Nakota & Dakota territories in rural South Dakota where her grandparents and parents taught her to ask questions and listen to people's stories. She has a background in classroom teaching but is firmly rooted in a praxis of popular education as a practitioner of Theatre of the Oppressed.
Sarah is grateful for the mentorship and skill building she has received from countless leaders building movements for collective liberation. Her work as a cultural worker is motivated by her belief that "none of us are free, if one of us is chained."
As a co-coordinator for the Olympia-Rafah Solidarity Mural Project, she hopes to support cross-movement building by offering resources to community organizers, centering intersectionality and highlighting the cultural work that sustains cultures of resistance for the "long-haul."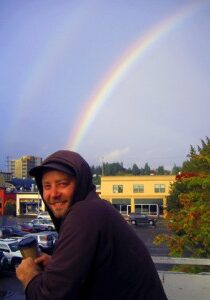 Outreach and Development Coordinator, 2009 – present
Josh has lived in Olympia for 10  years. He embodies art as a tool for change. His creativity brings this movement of solidarity to life with humor, grace, and great intelligence; he is a catalyst for action and connections between people from all parts of our community.
Josh is currently an outreach coordinator for ORSMP. Josh has been the coordinator of the Committee in Solidarity with the People of El Salvador (CISPES) and witnessed the triumph of real democracy in El Salvador in 2009. He works with the Olympia Movement for Justice and Peace (OMJP). Josh participated in the forming of the organization for the Olympia Port Militarization Resistence (OlyPMR).
He was a key organizer for the 'Immigration and Border Dialogues Conference in 2008, and the birth of Bridges Not Walls: an immigration rights group in the South Puget Sound region. Josh was saught out and encouraged to be a lead production and outreach facilitator for the Olympia Rafah Mural Project.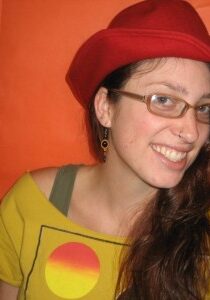 Social Media Coordinator, 2010 – present
Hilary Hacker graduated from with a master's degree in Strategic Communications through The Center for Creative Change at Antioch University in Seattle. She recently finished two years working as an AmeriCorps VISTA, Community Partnership Catalyst at The Center for Community-Based Learning and Action at The Evergreen State College where she worked to involve students in the greater Olympia community and to create and sustain campus-community partnerships.
Because of her work with a variety of community groups, organizations and social justice issues as well as her experience with outreach and media Hilary has jumped right into the swing of the Steering Committee.  Her focus is in immigration and she realizes the connections that capitalism, and imperialism play internationally as well as at home in the United States.
She is a member of Bridges Not Walls and works to educate her community about the horrors of our current immigration system and the ways in which we can use our privilege of citizenship as a catalyst for change and be allies to those who are members of targeted communities.
Along with being a representative of Bridges Not Walls Hilary currently works with Inmigrantes Unidos de Shelton and Mason County Literacy.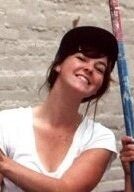 Steering Committee, 2009 – 2013
Alicia Martinson has worked as a project coordinator for the Olympia-Rafah Solidarity Mural Project for over two years. As a student at the Evergreen State College Alicia began working on the project as an intern in the spring of 2008. Alicia has worked on different aspects of the project including fundraising, administration, coordinating interns/volunteers, community outreach, and production.
While at Evergreen Alicia focused on political and social studies, studying the relationship between art and activism. She has completed two murals in Minneapolis, MN and has worked in collaboration with Project Director Dr. Susan Greene and many other artists on the artistic vision for this mural. After graduating from Evergreen Alicia worked full time as the lead local project coordinator in Olympia and facilitated the participation of over 40 local organizations.
She is currently working on the next phase of the project, gathering audio files from each organization in order to expand the projects mission and create more opportunities for building change.

Patricia Vazquez is an artist and community educator born and raised in Mexico City. She has lived in Olympia, WA for 7 years, where she has focused her efforts in the immigrant community.
Her artistic work explores the intersections of race, sexuality, gender and nationality, among other issues, and their influence in the formation of identity.
She joined the ORMP team last year, facilitating the connection of the local organizations working on immigrant rights with the Mural. She also developed and painted some of the images in the Mural.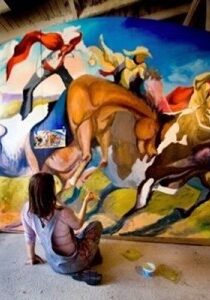 Design, Painting, Steering Committee
Nicole Ponsler is a painter, public artist and graduate student living in Northern California. Her interest lies in collaborative artistic praxis incorporating community-based creative interventions.
Nicole has acted as Lead Coordinator/Muralist for the Rural Murals organization,resulting in three permanent mural installations created by 40+ youth over a three yearperiod. She is the Executive Director for Youth Services for the Gualala Arts Center, where she administers arts in schools funding for Sonoma and Mendocino counties.Her work is held in private and public collections throughout the country.
Nicole is currently coordinating a large-scale pebble mosaic project for the City of Point Arena, CA. Under her direction, 50+ community volunteers have helped create this artistic legacy, composed entirely of local beach and river rock.
To see more of her work, visit:
http://dialoguesinpublicart.blogspot.com/
http://4pawportraits.com/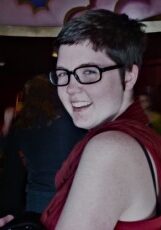 Video Artist/Documentarian
Jessi Meliza is a video artist/documentarian. She is recording footage for the Mural Project.
Jessi works in both narrative and documentary work, often including animated sequences and various incorporated media including book art, experimental music and installation presentation of her works. She was awarded a juried prize at a local film festival.
Her latest project is based on the books, "Why Cats Paint," "Why Paint Cats," "Painting as a Past Time," and "Painting as an Art."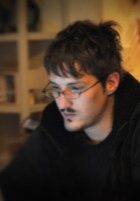 Eric Sarai is a graphic design professional with over 10 years experience working in the creative field. After attending Kent State's School of Visual Communication in Ohio, Eric moved to Chicago where he worked for a number of non-profit organizations including CURE : Against Epilepsy and SOS : Children's Villages of Illinois.
In 2006 Eric founded Eris Graphic, a contract graphic design studio now based out of a home studio in lovely Olympia Washington. Eric possess exceptional visual design skills and the ability to consistently over-deliver. Eric is not a designer that hides behind the computer.
He can be hands-on and always leaves a professional impression. Eric is now a key component in working on the downtown Olympia-Rafah International Solidarity Mural Project with the Rachel Corey Foundation.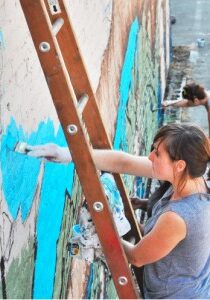 Leaf Facilitator and Mural Production Team
Raine Wholey is a visual artist and studied political economy at The Evergreen State College. Raine has facilitated murals with Summerfield Waldorf High School and the Graton Day Labor Center in CA, and ROOF Community Services in Rochester WA.
Raine worked with the ORSMP in the summer of 2009, coordinating design and painting of a few local Olympia organization's leaves. The leaves she was most focussed on were with SafePlace; the Olympia domestic violence shelter, Camp Quixote; a self governed homeless camp, and a few young men from the Native Culture Group at the Greene Hill youth prison with the program Gateways for Incarcerated Youth.
She hopes to use the popular education model with visual art and political economy in her future community work.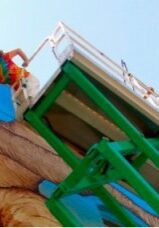 Mural Production Team (Intern)
Sarah Weiss is working as an Intern for the ORSMP.
Sarah became a volunteer for the project in January 2009, and later became an intern in the spring working on fundraising, outreach and publicity as well as helping with the mural.
As a student at the Evergreen State College, Sarah studies a variety of subjects but focuses particularly on visual arts.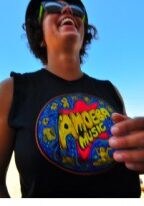 Intern and Mural Production Team (Intern)
Sophie has been living in Olympia since 2007 and became an intern for the Olympia Rafah Solidarity Mural Project in the spring of 2009.
As a student at the Evergreen State College, she has studied political activism, political economy, environmental science and poetry.
During the spring, she wrote and performed a spoken word piece at the DAM show and continues to use her poetry background to perpetuate social change.

Anna Rose Eggleton is 10 years old and is the youngest person committed to the mural project, having done extensive pictoral documentation of meetings. She has protested the occupation for 6 years and has hosted a visitor from Palestine in her room. She likes art, reading, playing the cello and animals, especially deer.
Candio is an artist who has exhibited her work nationally from the street to the club to the contemporary arts center to the museum and back to the street. Also a writer taking part in the Palestinian solidarity movement in Olympia, WA since the death of Rachel Corrie, she has published several articles in the Electronic Intifada on the subject.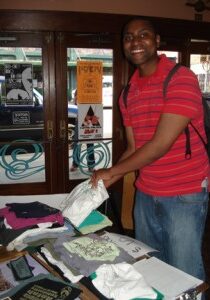 Branding, Graphics, and PR
Tinashe Rusike has been working on framing the visual aspects of public relations and outreach for the mural project
 since Winter 2009.
Tinashe has contributed his marketing, branding and 
design abilities, resulting in the project logo, brochure, posters, flyers, banners and many aspects of the website's look and feel.
Tinashe is a graduate of
the Evergreen State College with a Bachelor of Arts degree in Media Arts and
has also been involved in promoting events and organizations in the Olympia
 area.
Ceramics, Design and Steering Committee
Marion Pollman's playfulness is readily revealed through her ceramics. Her organic forms are alive with color; each piece can make you smile and begs to be touched.
"To make the world beautiful" is the moving force of Marion's life. Through her work, Marion Pollmann Ceramics, she has found her way.
Marion was born with a passion to create and with tremendous energy to put her passion into action. In her native Austria, she originally trained as an herbalist, focusing on using native plants for healing. She started a natural foods production business. Marion especially enjoyed what she calls "food styling," cooking meals which are not only delicious and healthy, but also a "feast for the eyes."
Moving to the U.S. in 1994, she first turned her creativity toward designing her own home. There she added gardens, growing organic vegetables and herbs along with flowers. With all of this accomplished she grew restless, ready to put herself into something new. But what?
One day in 1997, she took a pottery class. "Watching the teacher throw pots on the wheel," she remembers, "I was so overwhelmed by the experience of watching creation right before my eyes. Right away, I knew I was 'home.'" She's had her hands in clay ever since.
For the next several years Marion took all the classes she could find to learn about working with clay. She soon abandoned the potter's wheel in order to hand build her own forms. Her highly unique designs caught people's attention and she's been selling her work to delighted customers ever since. Marion never lacks for inspiration, often waking up from a dream with a new design idea in mind.
Her travels throughout Europe and in the South Pacific influence her work in interesting ways. Her vases are inspired by her earlier life in Europe where, she says, people give much more importance to flowers and vases in their homes. Time in Tahiti brought forth her ceramic baskets and two lines of dishes: Tahiti Dinner Set and Tutti Fruitti.
In 2006 Marion added a large gas kiln to her studio and started to create large sculptures and garden vessels up to four feet tall. Their forms are both surprising and pleasing, adding beauty to your home or garden.
ORSMP has been years in the making.
There are many people to thank!  Here are some of them:
2014 - 2015
Susan Greene – Director
Sarah Stockholm – Project Manager, Outreach and Development Coordinator
Josh Elliot – Outreach and Development Coordinator
Elizabeth Moore – Outreach and Development Coordinator
Rochelle Gause – Project Manager
Hilary Hacker – Social Media Coordinator
Steering Committee 2011
Susan Greene – Director and Project Originator
January 2006 – present
Alicia Martinson – Local Outreach and Production Coordinator
Spring 2008 – present
Josh Elliott – Leaf Installation Coordinator, and Leaf Facilitator
July 2009 – present
Hilary Hacker – Outreach and Event coordinator, Graphic Design
February 2010 – present
Dr. Therese Saliba – liaison to RCF Board
Public Relations Development and Outreach Strategies
Sally Douglas Arce – 2010 to present
Martha Wallner – 2010
RCF Board Members:
Dr. Therese Saliba – Secretary
Cindy Corrie – RCF President and Phase 1 Core Committee Administrator
Craig Corrie – RCF Treasurer
Patty Mosqueda
Donna Schumann – RCF Vice President